Augmented Reality (AR) & Virtual Reality (VR) applications have been around for some time, and every year we are witnessing more improvements and innovative use cases. This year was not the exception, boosted by the urgent need to stay at home and dive deeper into the virtual world.
Tech giants such as Apple with ARKit 4, Google with ARCore, or Facebook with Oculus VR push the boundaries further of what the technology can achieve. From entertainment to business, AR & VR apps can change the way we collaborate with colleagues or even how we learn.
These are the top Augmented Reality and Virtual Reality trends to watch closely in 2021.
Let's begin!
AR glasses

Augmented Reality and Mixed Reality (MR) headsets put virtual content right before your eyes. These wearables are not by any means new, with devices such as the Google Glass or the Microsoft HoloLens already in the industrial market.
The technology seems to be still in an infant state — at least for a standard global audience — but more tech players are joining the race. Facebook just announced its first pair of smart AR glasses, expected to release in 2021. Apple is said to be working on AR glasses too, and probably we'll see more about them next year.
A device of these characteristics, allowing users to receive and view important information on glasses' lens, has many compelling use cases. For instance, factory workers could see valuable data from the machines they work with, or surgeons could have an overview of their patient's health status — all hands-free. The limit of holding your smartphone to leverage AR capabilities is no more.
So as it seems, the AR headset trend is here to stay, and 2021 will push it even further.
Remote expert assistance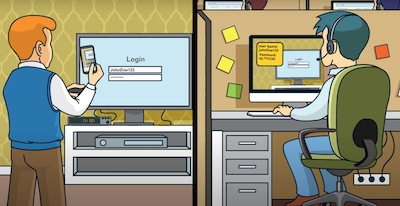 In a nutshell, remote expert assistance allows product experts and technicians to visually guide customers facing a specific issue by leveraging Augmented Reality. It's an emerging technology that we find even more useful now that we must stay at home — a context in which traveling and providing face-to-face services get complicated.
Let's say that you are having a problem with your WiFi router. In typical situations, you'd call your ISP, and they would try to help you out by phone. It would be easier to show the problem rather than trying to explain it, right? Both for you and the person behind the phone. In any case, if your ISP is not able to solve your problem, they'd schedule a technician visit, and you'd probably need to wait a few days.
Thanks to an AR solution, the technician would walk you through the steps remotely, faster, seeing what you see and making annotations over the screen, such as where each cable needs to be put or which screws to remove.
Months ago, we wrote an article about what COVID-19 means for the tech sector. We think that remote assistance — powered by AR — is one of those things to get stronger in 2021 and a post-coronavirus world.
5G enters the stage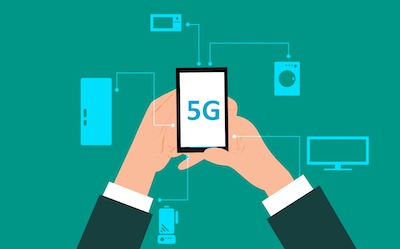 5G technology is here. Though it will need some time to reach the whole global market, big tech companies and developers are already working on new devices and solutions with 5G in mind.
In short, 5G means faster, more reliable connections and near-zero latency. It brings improvements in AR & VR implementations, where latency is key to creating a realistic and smooth experience.
Currently, several VR headsets require a powerful PC to run the most demanding experiences. However, with 5G, the processing power can be pushed into the edge cloud without compromising latency, and then users are no longer limited by the device's capabilities. Data transfer speed and latency are also essential for reducing nausea or headaches during a virtual reality view.
The enhanced bandwidth of 5G benefits AR & MR experiences as well. For instance, in remote assistance scenarios, indoor AR navigation, or even the implementation of AR/MR headsets could leverage cloud computing and improved connectivity. The adoption of 5G and its investments increased this year, and it will only keep growing in 2021. Good news for the AR & VR field!
Remote collaboration, learning, and socialization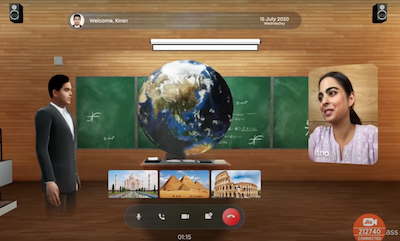 Due to the global pandemic, doing daily activities remotely — such as learning, socializing, or working — became the new normal. We have Zoom classes and meetings, collaboration on Slack with teammates, and Houseparty video chats with friends.
Though going remote proved to be feasible and effective in most cases (and it would probably remain a trend for many areas), it has room for improvement. Here's when augmented reality and mixed reality enter the stage.
Yes, sharing your presentation and screen via Zoom works, but what about being virtually in the same room with your colleagues, thanks to an AR headset? I mean, with their 3D avatars, of course, collaborating in a more immersive way. To get the idea, take a look at this brief demo from the Jio Smart AR glasses.
The same happens with education, where teachers and students could better interact through an AR/VR experience. You wouldn't only read about the Pyramids or the Coliseum; you'd be able to travel there virtually.
Remote collaboration and remote activities, in general, will keep being common in 2021. The AR field has the chance to take the remote-way to a whole new level, and many tech players have their eyes on it.
AR & VR applications in retail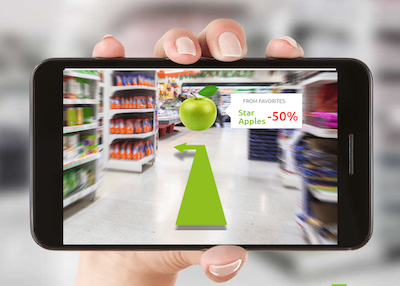 We've already seen some augmented reality and virtual reality implementations in retail, such as virtual try-on or the "magic mirror". Because of the context that 2020 created, implementations of that kind will keep growing in popularity and usage. Here's the thing, AR & VR enhances both the online and offline shopping experience.
On the online side of things, we are talking about trying clothes without heading to the physical store, for instance, or placing furniture in a room thanks to AR. With VR headsets, users could experience the in-store feeling with a virtual showroom, no matter where they are physically located.
In terms of offline shopping, VR is being leveraged as well. See the Holoroom Test Drive from Lowe's, in which customers can experience its products and tools, such as a hedge trimmer, in an immersive yet safe environment. Or did you ever get lost in a mall or supermarket while looking for a specific product? AR indoor navigation addresses that, showing customers where things are located or which products offer special discounts.
Consumers' behavior changed this year, especially when it comes to digital buying and e-commerce. Both AR & VR could benefit retailers to adapt to the next generation of shopping coming in the following years.
AR for manufacturing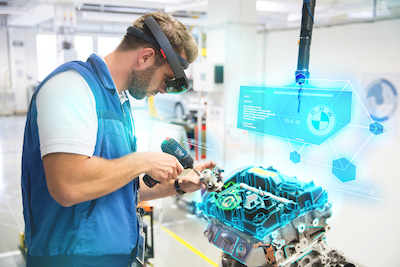 The enhancement of AR & MR headsets allows factories and industries to foster innovative solutions in the workplace. For instance, mixed reality headsets are used for staff training and production, giving the wearer data and insights from the machinery.
As we mentioned above, augmented reality platforms also enable improved remote expert guidance. Experts would be able to walk frontline workers through step-by-step processes, share their knowledge quickly, and avoid errors or decreases of operational productivity, along with an improvement of safety.
If we consider 2021 to be an exciting year for AR headsets, it will be a good one for augmented reality and manufacturing. Take a look at this demo of the Vuforia Enterprise AR platform from PTC, which showcases several cool AR implementations in the industrial area.
Final thoughts
So this is it. The list is based on research and our opinion as mobile AR developers, but it's not by any means extensive. We encourage you to leave a comment and tell us what you think about the AR, VR, and MR trends for 2021!
If you are looking to develop an Augmented Reality solution custom-tailored for your business, don't hesitate to drop us a line. We'd love to help 😀