One more thing. Apple's November 2020 Event is over, and as expected, the protagonists were the new Mac computers packed with the Apple Silicon chip.
In this blog post, we'll walk you through everything you need to know after the event.
Let's dive into it.
Apple Silicon: the new M1 chip
Following its announcement at WWDC 2020, Apple just unveiled the first Apple Silicon processor for Mac: the M1 chip.
This new chip is meant to combine power-efficiency and performance, powering from now on the latest ARM-based MacBook models.
Designed specifically for the Mac, the M1 chip carries an eight-core CPU — which delivers an industry-leading performance per watt, according to Apple. It's also a 5-nanometer processor, just like the new A14 Bionic.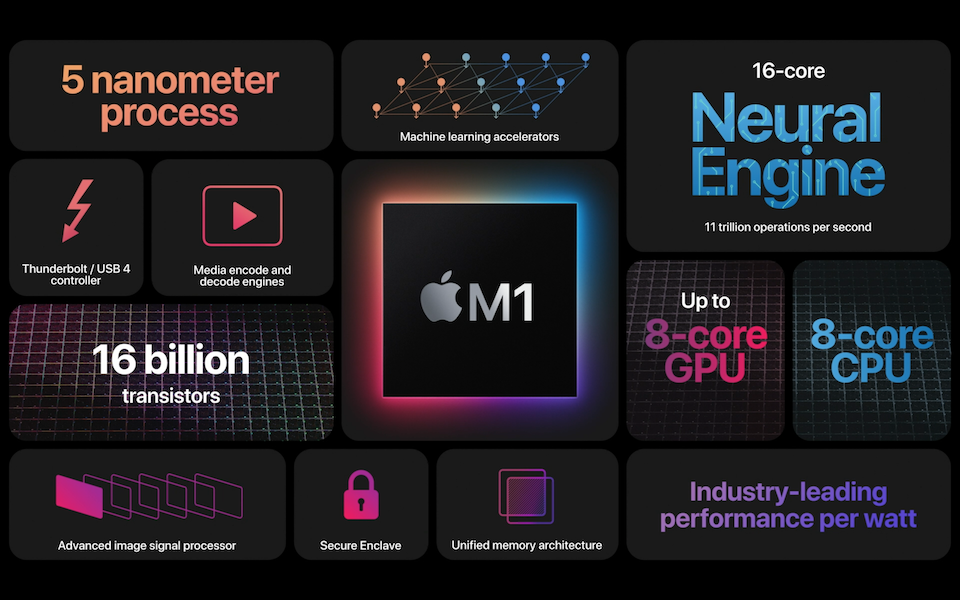 In addition, the M1 chip pairs with up to an eight-core GPU, it has a universal memory architecture, the latest Secure Enclave for improved security, among other powerful technologies.
Compared to standard PC laptop chips, the M1 is shown as up to 2 times faster in CPU performance.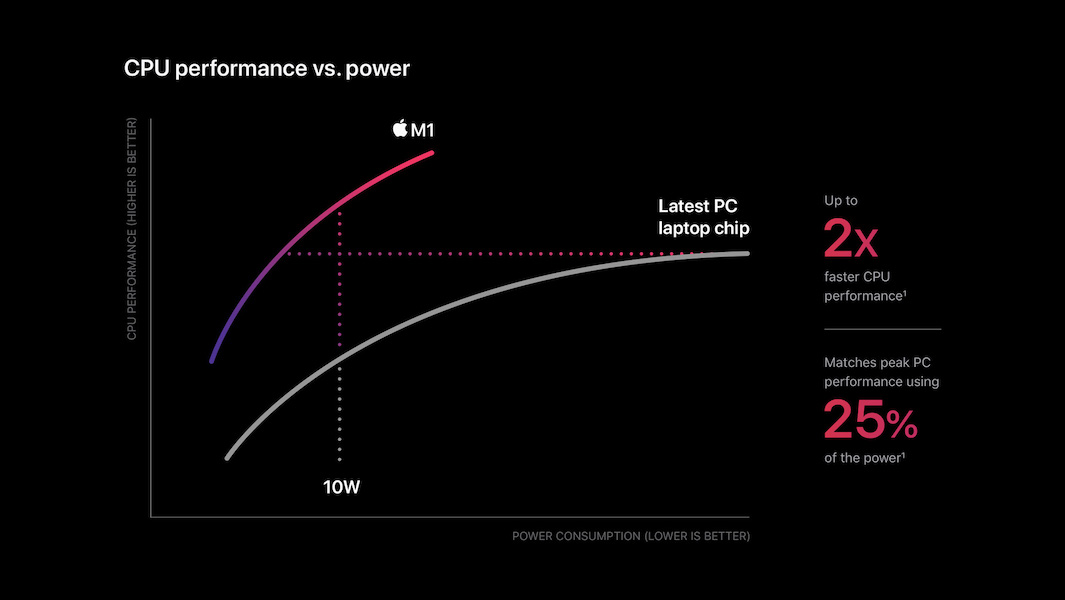 The M1 chip is designed with Machine Learning in mind, coming with a 16-core Neural Engine capable of 11 trillion operations per second and ML accelerators in the CPU.
Those are good news for us, the ML developers! High-demanding tasks such as image processing or video analysis should perform better on these new Mac computers.
Apple expects that the transition to Apple Silicon chips will take about two years to complete — being the just-announced Macs the first step.
Let's take a look at them.
MacBook Air
The first MacBook to rock the M1 chip is the new MacBook Air.
At first glance, it might look just identically to the previous Air model, but the main changes happen inside thanks to the M1.
According to Apple, it's up to 3.5x faster than its predecessor, with better graphics performance and up to 18 hours of battery life. That's a leap from the 13 hours claimed by early MacBook Air models.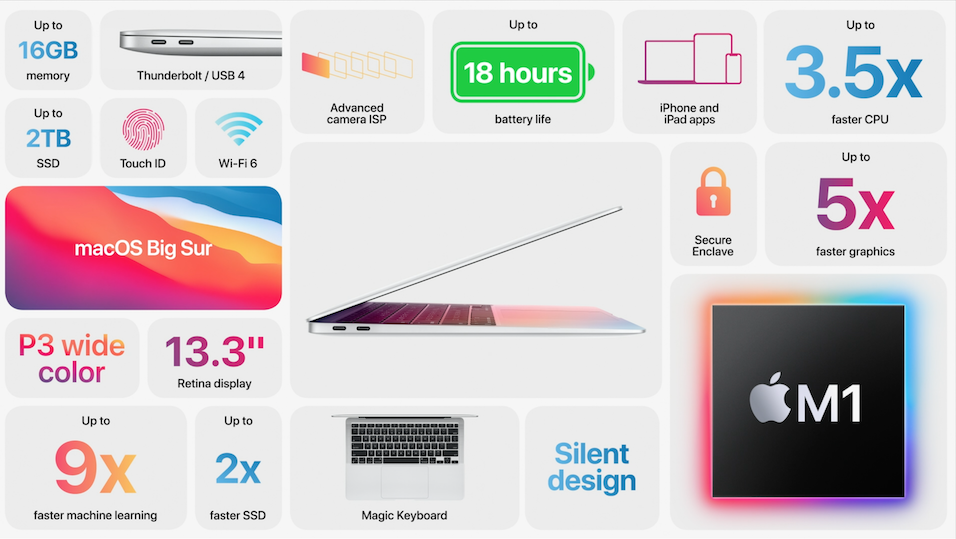 Besides, the new MacBook Air operates without a fan. Yes, I said it right. Apple announced a silent design for this new model, thanks to the thermal efficiency that the M1 chip brings.
As it packs the same M1 processor as Pro models, the MacBook Air will be able to handle intensive tasks like 4K video editing, music production, or even gaming. We'll like to see all of these in action, though, primarily because of the lack of fans.
You can pre-order one right now, starting from $999 for its base model.

Mac mini
It's been a while since we heard news about the Mac mini. The wait is over. Apple introduced a new Mac mini model, also featuring the Apple Silicon M1 chip.
As with the new MacBook Air, the main changes are brought thanks to the M1 processor.
For instance, it's up to 60% more energy-efficient, it has a 3-times faster CPU and up to 6 times faster graphics than previous models.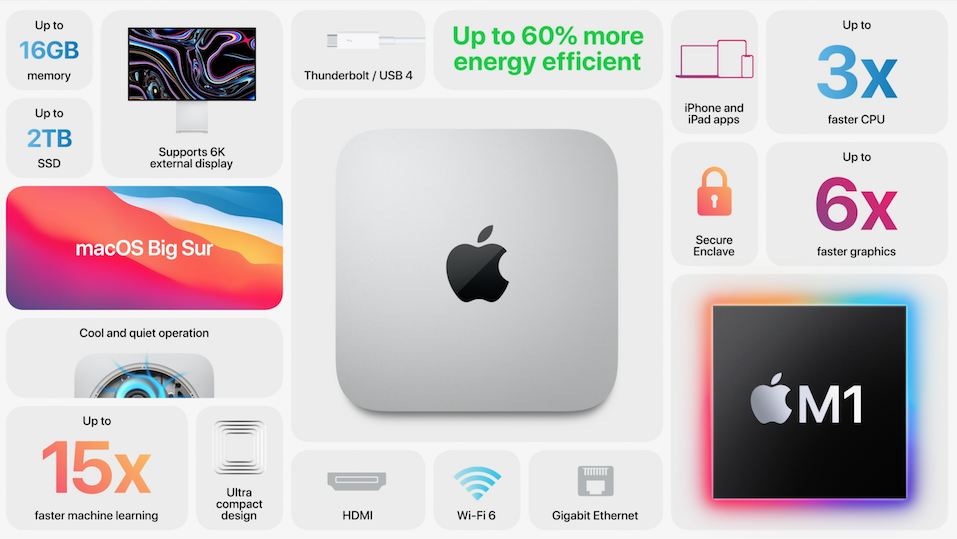 This Mac mini is part of an expected new family of ARM-based desktop Macs, which we will probably see in the next few years.
Pre-orders are available, starting from $699.
MacBook Pro 13-inch
Last but not least, we got the new 13-inch, ARM-based MacBook Pro.
Coming with the M1 chip, it replaces the base MacBook Pro Intel model, featuring now a more capable and efficient processor fully optimized for Mac.
According to Apple, the new MacBook Pro is up to 2.8 times faster than previous models in terms of CPU, with up to 5 times faster graphic performance.
It also rocks around 20 hours of battery life for a single charge — the most extended battery life ever delivered on a MacBook. Now we are talking.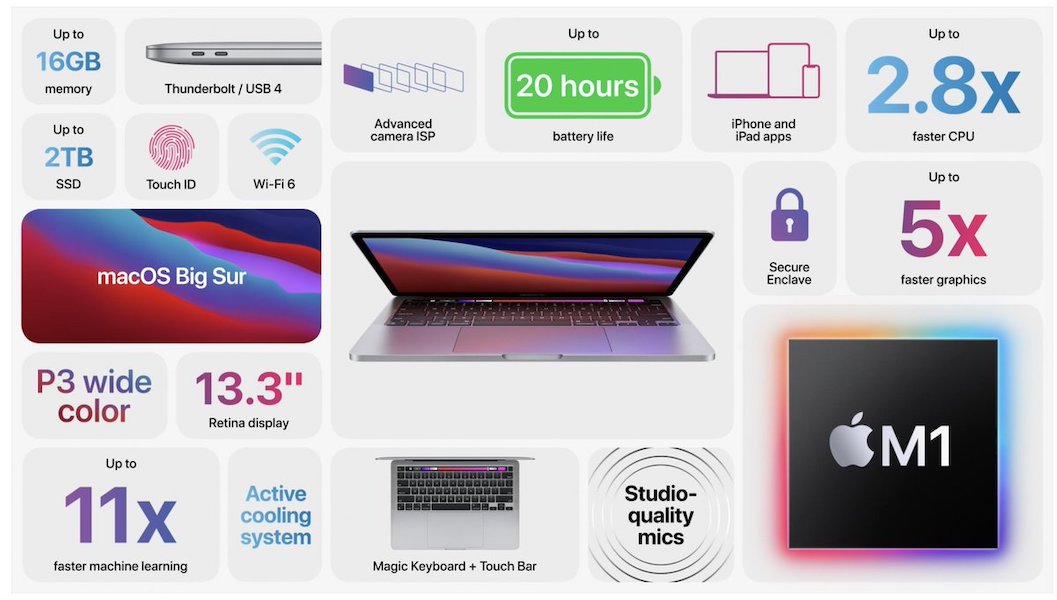 Notice that the new MacBook Pro still packs an active fan cooling system — unlike the MacBook Air — and a Touch Bar.
Starting from $1,299, pre-orders are available right now on the Apple Store.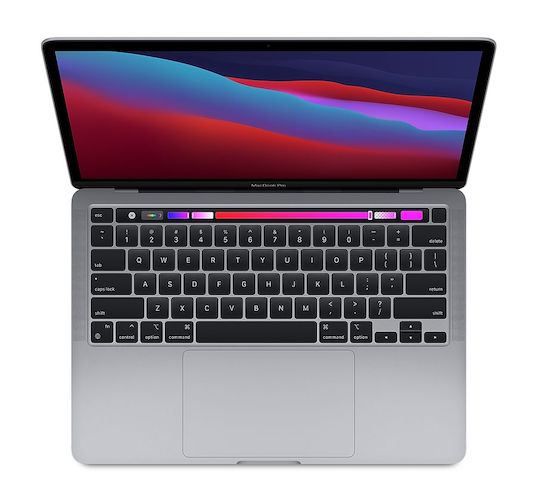 Final thoughts
So this is the new line of Macs, which will open the door to a whole new generation of ARM-based Mac computers.
In a nutshell, the main changes and improvements are delivered under the hood, thanks to the M1 chip. We are looking forward to seeing how it truly performs and how capable it is — especially when it comes to Machine Learning tasks.
What are your thoughts regarding these new Apple computers? Leave a comment below and tell us!