We are pleased to announce we've released updates v1.2 (and v1.2.1) to the app store, for DrillRoom, our AI-assisted training app for cue sports.
The following are the highlights of this update.
A leaderboard of billiard players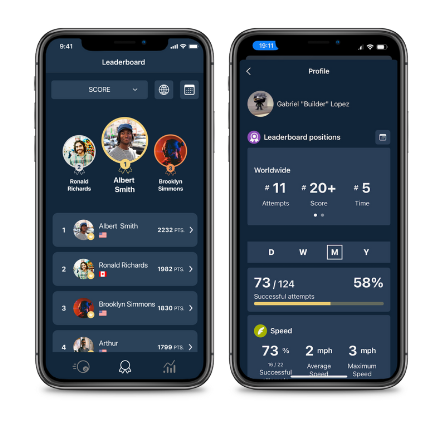 We've introduced a new high-level menu option in v1.2 which is the Leaderboard.  It displays a ranked list of players according to one of three metrics, number of attempts played, amount of time played, or score.  The score is a ratio of success in played attempts, making sure there were a minimum of total shots and a variety of different shots tried.
There are multiple reasons for building this feature. On the one hand gamifying the app a little, allowing you to compare your performance with that of other players, but most importantly, to open a new social dimension to DrillRoom, since tapping on any player on the leaderboard allows you to check their profile and stats. We see some room for players to share information in their profile, such as hardware preferences, pool halls, and maybe in the future, the promotion of cue sports coaching services.
Leaderboard can be filtered by time and country. This is only the first version however, It certainly can be improved. Feedback is more than welcome!
Manual ReTag of shots miss-classified by the AI
Let's talk accuracy of DrillRoom's AI event processing engine. Every now and then the AI engine fails to categorize properly what actually happened in a shot. For instance, it may play the sound of ball pocketed, when no ball was pocketed, or the other way around. According to our records, in good lighting and table framing conditions, this takes place in 7% of the shots. Approximately 93% of the shots will be properly classified, but sometimes the engine will fail. Reading failures can be of different types. For instance, the start of a shot may not be detected, or maybe you moved your hand on top of the cue ball and a false shot was identified, or a false pocketed/scratch event may be called when shooting. You get the picture.
Applying AI to assist the development of athletes is tough. Improving the engine's accuracy is a hard problem. This may be worse with older generation devices, iPhone 8 and some iPads, or in poor lighting and framing conditions, and/or in fast shots, where things take place in fractions of a second.
Up until now, there wasn't much you could do other than maybe restart the drill. Well, this has changed, now since V1.2, a new retag button is displayed in the drill view, marked with the RT letters. This enables you to reclassify a shot or attempt. Allowing you to set the record straight when it comes to your score, or simply letting you replay an attempt without losing the score of previous attempts.
Improving the accuracy of the engine requires data. It's worth mentioning that retagging not only fixes the score, but also sends information to our servers that may be key in helping us improve the accuracy of the engine for future releases.
Localization of the app to Spanish and German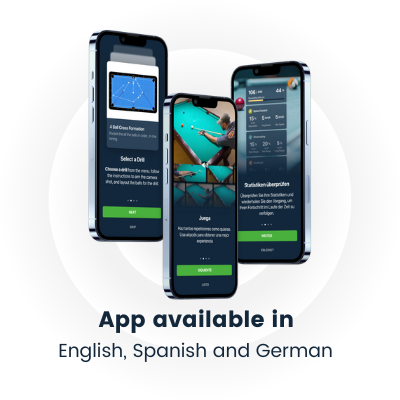 We've had virtual coaches with voices in English, Spanish, and German for a year now, but the texts throughout the app were only available in English. This is a stopper for part of our target audience, who don't read English and are avid pool players. We fixed this. If there's a language you'd like to see supported let us know. We have players from different countries in Asia, such as Vietnam, Cambodia, and Thailand who may benefit from the same thing. Any help in this sense is appreciated.
What's next?
The number one feature request we get is an Android version. We are not there yet. Android comes with a ton of challenges, mainly the spread of devices and capabilities they provide. We first want to hone in the iOS experience, accuracy, and achieve a compelling app for all pool players out there with access to an iOS device.
We are working on version 1.3 which we hope to release in the coming weeks. It will ship many minor improvements, and one new feature, which I'm saving to share with you in my next post.
In the meantime thank you to everyone who has left a kind rating of the app and/or review. Thanks for the feedback some of you have sent by email, and thanks to those who support our work with a subscription.