More and more companies are integrating mobile applications into their products and services. They develop apps to support their services and, sometimes, have apps as their main products. Regardless of your goal, OrangeLoops is here to help with your mobile app development efforts. Since 2015, our team has been assisting businesses to turn great ideas into great software and app solutions.
Enough of our services, because today, we are focusing on an incredible milestone! We are very proud to announce that we were named a top application development company in Massachusetts by Clutch! It is a great honor for us to be featured on Clutch's platform and secure a spot on their impressive list of great companies this year.
We appreciate all of the clients that entrust us with their software projects and take the time to leave a review on Clutch. It's our pride to take excellent care of them as we aim to build transparent and long-term relationships.
Recently, we helped CanadaGoGreen, a Canadian solar ventilation company, develop a React Native mobile app to help its team with the installation of solar-powered attic vents. Here's what they think about us:
"I've worked with a couple of providers before OrangeLoops, and their level of transparency stands out. I can see everything they're doing." — CEO, CanadaGoGreen.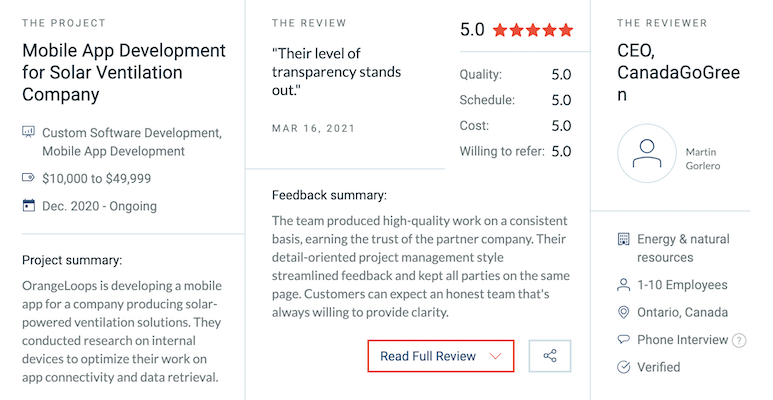 We would also like to extend our gratitude to our team, partners, and friends who have supported us throughout these years. You have been vital to our success! From the bottom of our hearts, thank you so much.
If this is the first time you hear about Clutch, don't worry, we got you covered. They are a well-respected B2B ratings and reviews platform. Their site provides intensive and in-depth research, such as their 2021 list of developers who are successful in their respective states.
Do you have any app development projects in mind? We would love to hear from you!